Quick Fried Mushroom Meal with Spinach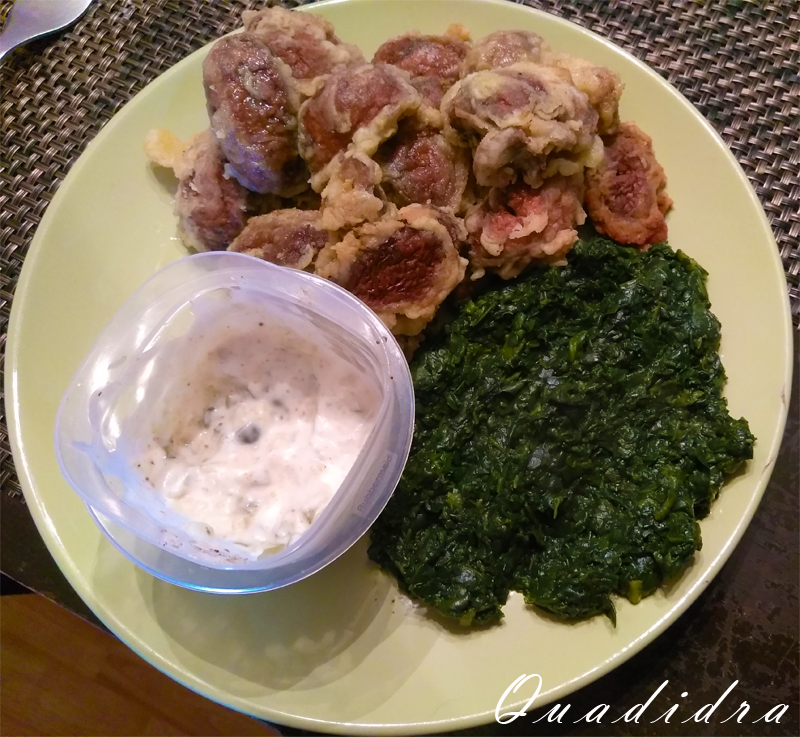 When you want a quick meal that tastes like healthy fast food, this is it. You can fry up your mushrooms and give them a seafood flair.
Fried Mushroom & Spinach Recipe
10 Bella Mushrooms
½ Cup of Flour
2 cups of Spinach
½ Tsp of sea salt
1 Tbsp of Old Bay Seasoning
¼ Cup of Vegan Mayo
¼ Cup of Relish
Cooking Spinach
¼ Cup of almond milk
½ Cup of Olive Oil
Mixing Tartar Sauce
Mix the relish, vegan mayo, and ½ Tbsp of old bay seasoning together.
Cooking the Spinach
Add two cups of water and two cups of spinach to a pot with ¼ Tsp of sea salt. Turn on medium heat and allow the Spinach to cook while you fry the mushrooms.
Frying Mushrooms
Wipe the mushrooms with a damp rag and then slice them in half. Now mix ¼ Cup of Flour with ¼ Cup of almond milk. Pour ¼ Cup of flour on a plate. Add 1/2 Tbsp of old bay seasoning and ¼ Tsp of sea salt to the flour on the plate. Pour all of the olive oil into a frying pan and turn the heat to medium. Dip each of your mushrooms into the flour and almond milk mixture and then coat it with flour. Place the coated mushrooms in the hot olive oil and let them fry until they are golden brown. Once they are golden brown remove them from the oil and place them on the paper towel. Your spinach should be done now. Turn it off and plate your meal.