Vegan Pizza Recipe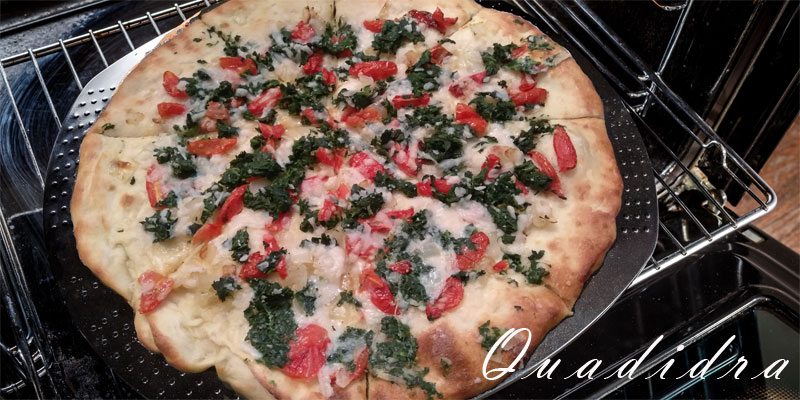 When I went vegan, I knew that pizza was going to be something that I missed. So, I worked hard to find a vegan pizza recipe that would make me feel as if I wasn't missing anything. Through trial and error, I created this recipe.
Vegan Pizza Recipe
1 pint of grape tomatoes
1 cup of cooked spinach (You can use frozen or fresh to accomplish this)
1 medium onion
1 Tbsp of salt
1 Tbsp of sugar
1 tsp of pepper
1 bag of vegan mozzarella shreds (Your favorite brand)
Vegan pizza dough (Most dough is vegan just read the ingredients)
Olive oil
Prepping Dough
If you are using frozen dough please take it out about 8 to 12 hours before you start to make your pizza.
Prepping Veggies
Take a baking sheet and lightly cover it with olive oil and a sprinkle of salt. Cut the grape tomatoes into halves and place them on the baking sheet. Sprinkle the top of the grape tomatoes with salt, pepper, and sugar and put it into a 350-degree oven for 15-20 minutes.
If your spinach is raw or uncooked, add a little water into a pot and cook the spinach while you are waiting for your tomatoes.
Dice your onion and add a little olive oil to a pan. Put the onions in the pan. Add the Tbsp of salt and sugar over the onions. Allow the onions to render down for about 25 minutes on medium low heat.
In about 30 minutes all veggies should be ready for your pie.
Making the Pizza Pie
Take your pizza sheet (baking sheet, pan, etc.) and lightly oil it. Stretch the pizza dough out until it is in the shape you are looking for. Spread the roasted grape tomatoes around the dough. Then spread the onions that were rendered down and spinach around the pie. Lastly, sprinkle the vegan cheese around the pie.
Put the pizza pie into the oven on 550 for about 12-15 minutes.