AAMBC Book Review – Lethal Secrets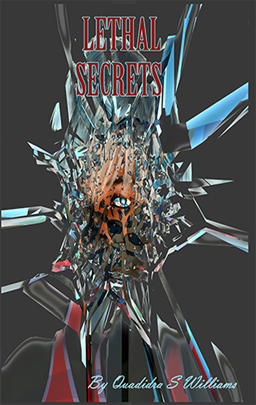 By AAMBC on December 2, 2015
Format: Kindle Edition
that anyone can identify with from their own personal experiences. Lethal Secrets is Quadidra's new novel that examines issues of trust and honesty in relationships. Is a relationship, especially an intimate relationship, true and worthy of love if trust is an issue? Can you love someone you cannot trust? Should you love that person? Can one be true to another person, if one is not true to oneself? The novel Lethal Secrets allows the reader to safely witness what happens when lies and deceit are the norm.
Our main characters, Kendra and Rich, "find" each other as Kendra is facing a crises that is life threatening. Kendra's inner demons send her spiraling out of control and seeking help and solace by returning home. Her self-reflection drives her to face what she has become. As the reader shares Kendra's moment of truth, we ask ourselves could we do the same thing? Kendra embraces her family she left behind, and is immediately forgiven and returned to the fold of family life. Yet Kendra continues to struggle. Rich "accidentally" encounters Kendra and realizes that she needs help and he is willing to help her. Both Kendra and Rich have demons that will not go gentle into that good night. Don't we all?
Both Kendra and Rich have lethal secrets that are harmful and deadly. These secrets are revealed to the characters and the reader as we bring this novel to its conclusion. Some secrets are made known only to the reader. At the end of the novel, some characters are still unaware of the truth. The dramatic irony that is created is comparable to classic tragedy. We choose to see what we want to see, and ignore what we wish to ignore. Isn't that real life? Kendra and Rich break the bonds that should bind them together, yet they remain with each other. Is a relationship real if loyalty, honesty, trust, and truth are compromised? Can one separate deed and actions from the person involved? Can a good person commit atrocious acts? The answer to these questions will propel the characters and readers to a shocking conclusion in Lethal Secrets by Quadidra S. Williams.
L. Hines
AAMBC Reviewer