AAMBC Book Review – Melancholy Note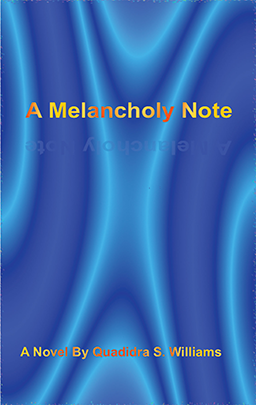 Quadidra S. Williams, the author of A Melancholy Note, tackles the touchy subject of "control" in personal relationships. Ms. Williams handles this topic with compassion and finesse. The reader is invited to share in the lives of the main characters, Shadeem and Kalyia, as they fall in love and begin their journey together. The love that Shadeem and Kalyia share is perceived as perfect; however, the reality is that Shadeem is in control in their relationship and Kalyia relinquishes that control in exchange for love. How far will Shadeem go? How far will Kalyia allow him to go?
One's past will always impact the present and the future. One cannot run away from oneself. Both Shadeem and Kalyia are from families with violent backgrounds that haunt each character personally as well as their relationship. Others in the novel know the reality of their family violence but are unable to prevent the past from intruding upon the present. Are we destined to bear the sins of our parents? Can we escape from repeating the horrors of the past? Shadeem and Kalyia allow us to bear witness to this battle of love and forgiveness.
The world of Shadeem and Kalyia compels the reader to travel this road with them to find out how it ends. The reader is witness to how lies, deceit, infidelities, and violence can and will destroy love in any relationship. Who wins in this game? Who loses? More importantly: What can be learned from Shadeem and Kalyia about life, love, strength, and happiness?
This novel is a must read for all involved in personal relationships. One can easily become embroiled in a controlling situation without even being aware of how it happens. Quadidra Williams shows in her novel, A Melancholy Note, how quickly and simply love can mix with control to create a toxic cocktail that ultimately consumes everyone.
L. Hines
AAMBC Reviewer
Check it out on Amazon.com